Security Presses
Offset Presses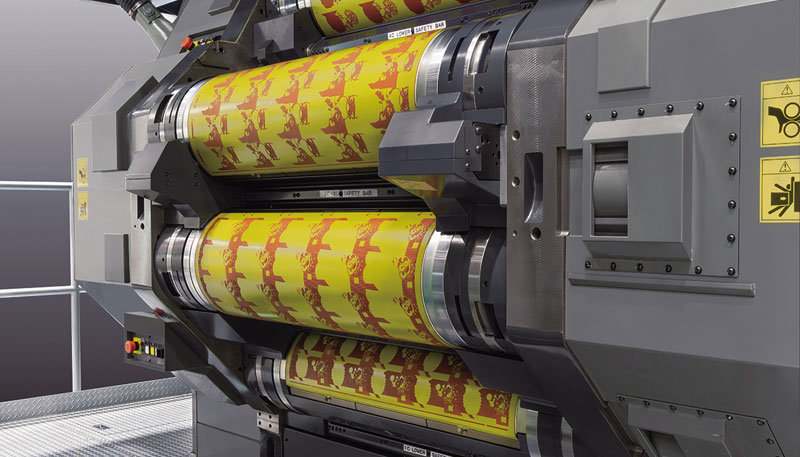 A sheet fed offset press which prints simultaneously on both sides of the sheet in one pass
Maximum 10 Colours
Standard configuration is 4 colours for each side of the sheet.
2 additional colour units can be added to the front as an option.
World Class Productivity
The maximum printing speed is 13,000sph, industry leading speed. Various remotely controlled systems are included to deliver fast-make-ready times.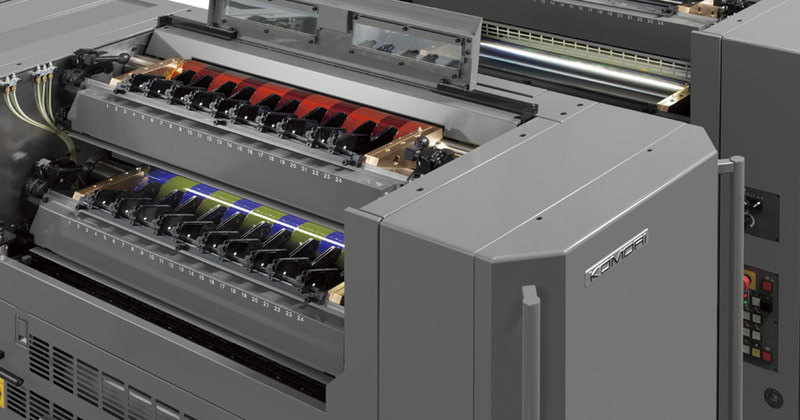 Multicolour Offset Printing Press designed for the production of banknote and high security documents.
The modular units are capable of producing multiple complex banknote designs.
Each unit can be selectable for each operation.
Wet offset can be used for all colours if required.
The proven KOMORIMATIC dampening system now features an improved, temperature-controlled constant water supply. The KOMORIMATIC contributes to higher quality security fine line printing and a stable ink/water balance.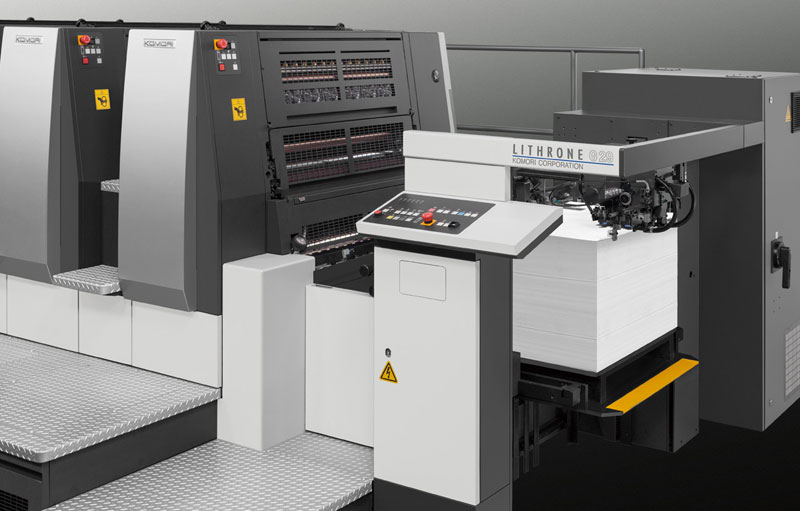 The LITHRONEG29 series is originally from Komori's commercial offset section. Technology from currency offset printing has been introduced into this series, making it capable of high quality security printing.
Rainbow Printing
The LITHRONEG29 is capable of high quality rainbow printing. The divider device is perfectly fitted to the ink duct, enabling easy makeready and operation.
Double Delivery
The LITHRONEG29 has a highly accurate double delivery system.
Intaglio Press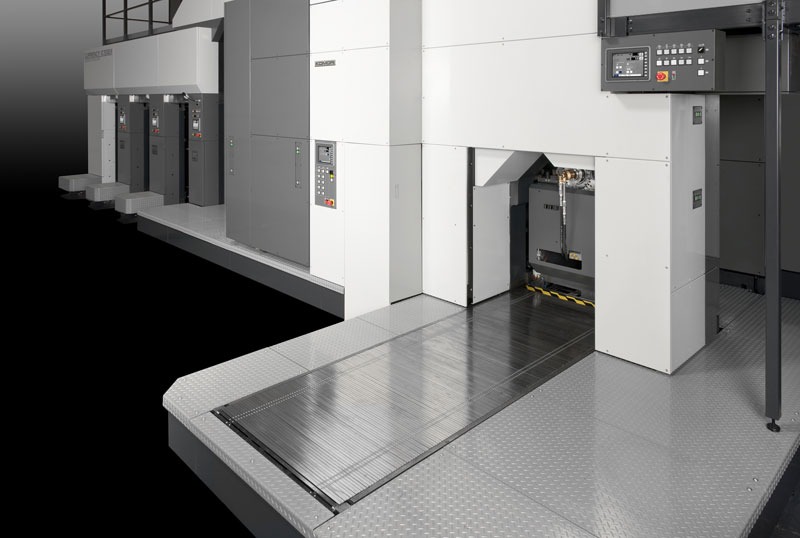 Multicolour indirect intaglio printing press designed for the production of banknotes and high security documents
Innovative Cylinder Configuration
This ensures minimum contact pressure with the blanket, resulting in superb print quality, and also significantly improves operability and ease of access to the main components of the press.
Improved maintenance and cost of ownership
Various processes are designed to reduce make-ready time.
For example, the roller can be extracted easily from the side of the press allowing for fast wiper changeovers.
Sheet Inspection System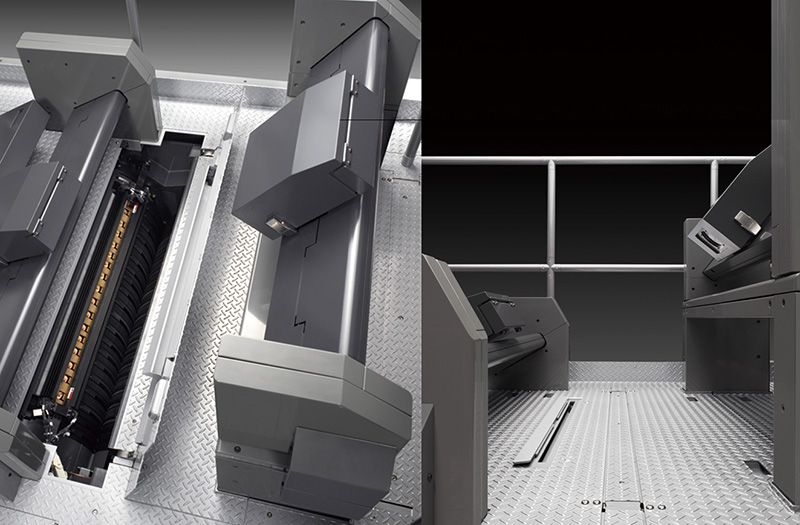 Offline Sheet Inspection System is designed to standardize the quality of banknote inspection and replace manual inspection.
Inspection Camera and Inspection Cylinder
The Currency QA is capable of inspecting the full colour visible and machine readable features on both sides of the sheet. The inspections employ line scan cameras with constant illumination to accurately capture high resolution images on each sheet. A unique suction type cylinder is used to stabilize and tension the sheet keeping it perfectly flat during inspection.
Delivery
The press is equipped with a triple pile delivery which supports a user selectable sorting function to optimize how defects are processed once inspected.
Each pile is capable of continuous operation at maximum printing speeds with static elimination and corona discharge fans to allow stable stacking of cotton, hybrid and polymer substrates.
Numbering and Varnishing Presses

A multicolour numbering press for the numbering and spot overprinting of banknotes and other security documents
Features for High productivity and quality
The large vacuum cylinder stabilises the sheets for inspection by the advanced camera system. Accurate, reliable inspection can take place as the cylinder removes any movement.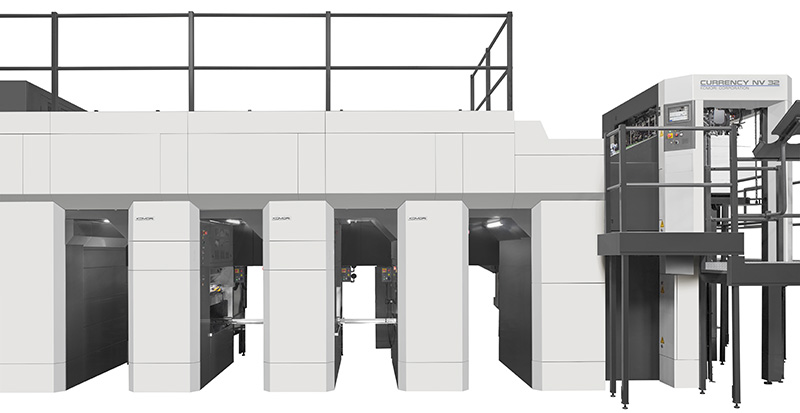 A modular type of Multicolour Numbering Press designed for the production of banknote and high security documents
Short Make ready
The over printing unit, numbering unit and varnishing unit all have the unit clutch system. Thanks to the modular design and this system, operators can carry out parallel make ready operations. This reduces the make ready time at shift-end wash time by 50% compared to conventional satellite-type of numbering press.
Varnishing units can be retrofitted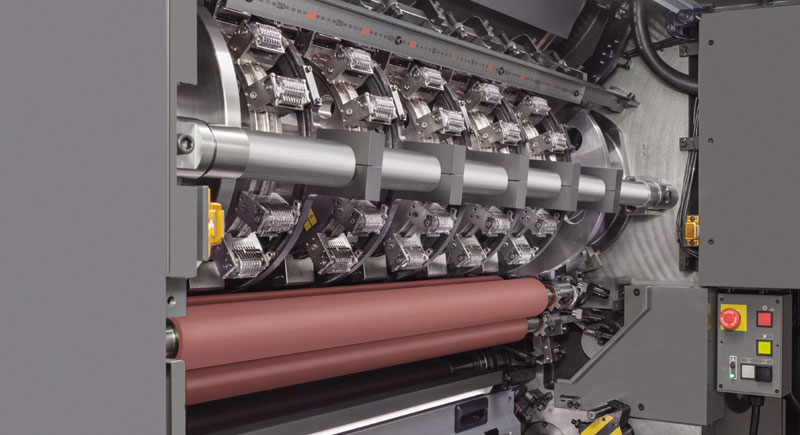 Combination Multiprocess Numbering & Varnishing Presses designed for the production of banknotes and high security documents.
Reduction of resources
Previously, numbering and varnishing were separate operations, requiring different machines, separate operators and two sets of work in progress. The Currency NV is two machines in one, reducing the need for separate operators, and eliminating work in progress and drying times.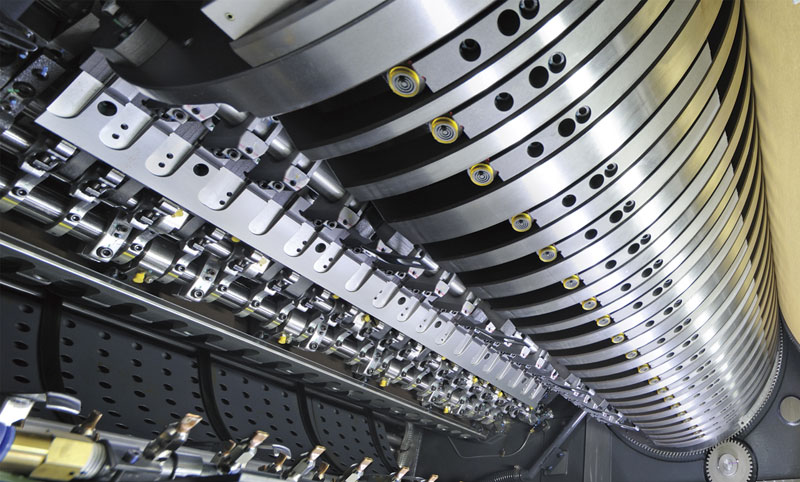 A perfecting sheet-fed, varnishing press, which is designed for the production of varnishing banknotes and high security documents on all types of substrates, specialising in banknote material.
Perfecting System
The Currency CC is fitted with Komori's own high-performance perfecting mechanism configured with three double-sized cylinders - impression cylinder, transfer cylinder and perfecting cylinder. Stable sheet transport assures exceptional register accuracy.
Industrial long life and maintenance free diamond coated gripper pads are provided which require no adjustment for changes in substrate thickness.